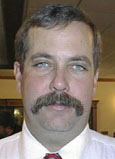 President's Message: December 1999
Welcome to the final newsletter of the century. It sounds kind of strange saying that, but even the Lodge we jumped on the Millenium Bandwagon. For an organization that is just two years old, we have been growing and maturing nicely. As the time goes on, we are working out the bugs in our organization. Our list of who is qualified in the Kitchen is rapidly deminishing as we experienced another repeat of the October meeting, but it was quickly extinguished - looks like the Lodge will have to purchase a fire extinguisher.
As the year comes to a close, let's review some of our deeds and efforts. The Lodge has made itself known throughout the community, with several efforts to make the public more aware of our Law Enforcement Officers Memorial Wall. To that extent, over the course of three weekends, several members fingerprinted and photographed over 1,300 kids with our Child ID Kits at no cost to the parents and we raised some money for the Wall. We conducted VIN Etching for the community, which raised the community's awareness of us, helped them save 10% on their comprehensive insurance and again, raised some money for the Wall. We will be doing this again in the Spring, but will be including bikes also. At the October meeting, our Lodge honored 20 of the 54 boys who made Eagle Scout in Orange County in the past twelve months. This is Scouting's highest award and it gives us a chance to meet tomorrow's leaders.
In The first week of December, on December 4th we will be conducting the 6 hour Driver Safety Course. The cost is $15.00 for members and their families, and $30.00 for non members. The members are paying what we must pay for each member, and the rest of the money from nonmembers will go to the Wall. It seems that we are raising the money for the Wall in a nickle and dime fashion, but it is probably the easiest way to raise the required $25,000.00. Efforts are going slow, but steady and if any member knows of a corporation or organization who share our believes that those who have died in the Line of Duty deserve this Wall, let us know and we will talk to them.
By the time the membership gets this newsletter, the first week of December will have passed. That is why a special mailing went out advertising the Driver Safety Course and free VIN Etching and also Tommy Carroll and the Shields worthy Blood Drive. The mailing went out early to reach everyone in time to assist in the two projects to make them both successes.
As the new year(and I hate to say it), and the new Millenium are upon us, we are planning more services for our members. We are working out the kinks for a retirement seminars for our members who are retiring this year, and if this is a success, we will be doing it annually, and we are also exploring avenues to make it easier for retired/retiring members to get a carry permit. So as the year unwinds, look for more information on these seminars.
Mark your Calenders, our Second Annual Jason Conklin Venison Dinner is scheduled for February 5, 2000 at the American Legion. With luck it will be as successful as last year's with all the profits going to the Wall, so be prepared for a good Turkey Shoot and some good times, and some great prizes to be raffled off.
The year 2000 will be a busy one for us, as the Board is planning things that will be keeping us busy almost monthly for the whole year.
For the members who will be working New Year's Eve because of the Y2K stay safe, for those who aren't, look for me in Times Square, I'll be the guy in the new White Shirt waving.
As the year closes and we look back, keep in your thoughts the families of members who have lost loved ones, and whose family members are ill, and especially keep in your thoughts and prayers the families of Law Enforcement officers throughout the country who have lost their loved ones in the Line of Duty, as they spend the Holidays without them.
Lastly, remember, Stay Safe and wear your Vests.
On behalf of the Executive Board I would like to extend to you and your families, a safe and healthy holidays and more prosperity in the new Millenium.


---
Memorial Wall Bio
Trooper William V. McDonagh
Troop F, NYSP
SP Monroe
On December 14,1975, while on routine patrol, Trooper William V. McDonagh,assigned to the State Police Barracks, Monroe, was dispatched to a dispute in the Hamlet of SugarLoaf. Trooper McDonagh was responding to a pay phone to a female's call for help, before the Trooper's arrival, the female was shoot and killed by her boyfriend. Upon Trooper McDonagh's arrival, he was ambushed and shot and killed by the boyfriend. back up units arriving, shot and killed Trooper McDonagh's killer.
Trooper William V. McDonagh was a two year member of the New York State Police and was 24 years old at the time of his death.

---
Discount Insurance:
The Lodge is presently negotiating a discounted insurance program for our members. Liberty Mutual, the 8th Largest insurance company in the country, is offering our members policies for all types of insurance, from home, auto, life, etc. Members receive an automatic 5% discount off their premiums just for signing up with them,and those who have attended the Driver Safety Course will receive another 10% off, and if you do the VIN Etching and carry comprehensive insurance will receive an additional 10%. You do the math on what your membership with our Lodge will save you.
We will have more information at the January Meeting.
---
COLD WAR CERTIFICATE
For the Members who are Veterans the military is giving you a Cold War Certificate, signifying service between the years 1946 and 1994. To apply for the Certificate send your correspondences to
Cold War Certificate
4035 Ridge Top Road
Suite 400
Fairfax, VA 22030
---
Welcome to Our New Members:
Dennis Wertz- NYPD
Arthur Abbott- Town of Woodbury PD
Scott Danielson- Town of Woodbury PD
Michael Mazzilli- NYPD 19 PCt
Leonard Curcio- FDNY Fire Marshall/ Mayor of Washingtonville, Mt. Hope PD
Brian Touhy-NYPD
Patrick Leahey- BATF
Christopher O'Neill-NYPD 46 Pct
Rolf Dzirson-NYPD 41 Sq
Timothy Blasko- NYPD PSA 4
Hardart Louis Dasraj- NYPD 34 Pct
Tucker Gray-NYPD , MSTF
Robert Hankinson-NYPD, PBMS
Richard Connolly-NYPD 24 Pct
Juan Ojeda-NYPD 46 Pct
Arthur Sowinsky-NYPD 19 Pct
Jose Cruzado- NYPD

---
WARNING
Just recently two officers were shot while on Patrol in a poor section of Albany, NY. The perp was able to grab one of the officer's firearm, a Sigma 40e, a .40 cal and shot both officers after a fierce struggle. One of the wounded officers returned fire and as of now, the perp is still on the lose. I have been told, unofficially, that a contributing factor was the fact the their duty holster were made for the full sized S&W Sigma .40 cal, and not the more compact Sigma 40E. There is a 1/2 in tho 3/4 inch difference in the size of the compact model giving the firearm more room in the holster, making it easier to remove and defeat the locking mechanism. This is not to be construed as pointing blame at the officers, as they both fought valiantly to overcome the assault, but is to be viewed as a lesson to make sure you have the proper fitting equipment. The use of the holster were not a personal choice of the officers, but a choice by the Dept,so nake sure that you have the proper equipment, not just the most affordable.
As of now both officers are recovering

---
BUILDING FUND
Although we had a rocky start, the Building Committee for our Lodge is still alive! We appreciate our Members patience regarding our Raffle Ticket Fundraiser. We have projected the drawing to be at our March 2000 meeting. This can only be successful with the participation of our membership. The future of our building is in your hands. We realize that a $50.00
ticket is a sizeable cost,BUT, consider it a piece of our future meeting facility...a piece of our future ball field... a piece of our futurefamily picnic area,...a piece of our future. At this Holiday time, perhaps this raffle ticket would make an excellent gift(Think of the joy of winning $10,000) Anyone who purchases a raffle ticket, will be entitled to attend, without cost, our Buffet meeting in March, when the raffle will be drawn.
If any members would like to actively be a part of the building fund, please contact me, Frank Cush 782-4101. Thank you.

---
A Policeman' s Christmas
T'was the weeks before Christmas, and all through the City
It's the best time of year, for all is so pretty.
People are happy, so kind, full of cheer.
Except, for one group who had better beware.
The pride of our City, the men and women in BLUE,
Your time is now numbered, they're out to get you.
Watch out, what you do, where you go, what you say,
For they're out there in numbers, screw up, MAKE THEIR DAY!
There's IAB, FIAU, a shoofly, a Captain, a Lieutenant, or two.
A jogger, a merchant, a man with a cane,
They seem to get off on inflicting you pain.
It starts off with Roll Call," ATTENTION.PARADE REST "!
Then continues with speeches, you feel a pain through your vest.
You're a Liar, a Cheat, a Crook, you are told,
You should go to JAIL for the things you have stole.
It's now "Take your POST: WAIT, Summonses are down".
Have a nice day, but again they are around.
Now you are primed for the STREET, pumped up to the MAX;
While the Hypocrite SCUM prepare their attacks.

A wallet is left to be seen in plain view,
Their pulses are now throbbing, what will you do?
You open your wallet, and out jumps a dollar,
Their hearts are now pounding, do they have a collar?
You now go for coffee, the whole world can see,
The shadow is lirking, did yo get it for FREE?
Respond to a job,"EDP with a bat"!
The first thing you think of is, AM I WEARING MY HAT?
The weeks have dragged by, Christmas, is finally here.
Now comes the time the STREET COPS must fear:
Your 28's in and you've made your planning,
But wait, ther'es a catch, IT'S CALLED MINIMUM MANNING!
"We're sorry you're working, what can we say...........
All the inside cops are off, enjoying their day."
But the crafty old cop, he's learned what to do,
It isn't his fault, He came down with the FLU