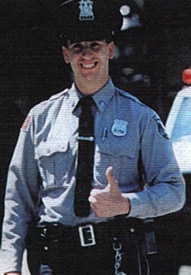 Jason's dream and smile live on
by Lyn A. McCafferty
It was Jason Conklin's dream. To protect and serve. To be a cop.
Monday, his family buried him.
The 22 year-old Tuxedo Park police officer had barely a year on the job when he gave his life Aug. 21 in the line of duty. Police believe Jason was chasing a speeder when his 1997 Ford Expedition police truck rolled on top of him on a curve on Tuxedo Road. He was thrown from the open driver's side window, pinned under the truck, and suffocated.
Monday, more than 1,500 police officers, family, and friends came to pay their respects. They'd lost one of their own.
At Jason's funeral service, collages of photos dotted the room, chronicling his years. Jason as a baby - barely days old. Jason as a toddler wrestling wiht his three brothers. School-age Jason hunting with one of his brothers. Ten year-old Jason holding up a fish he caught. Tuxedo-clad Jason with his father and brothers similarly dressed for his brother Steven's wedding. Jason - just a year ago or so - with a smart little moustache and a girl on each shoulder. And finally, Jason standing proud in his police uniform.
Aging family snapshots and crisp professional photos. Some dogeared and worn. Others plucked out of family photo albums.

But all the pictures had one thing in common : a smile on Jason's face. In some, it's a child's smile of joy - catching a fish, hunting a deer. In other shots, Jason's smile is mischevious : He's going to find fun and you're coming along for the ride. You can't help but smile at Jason smiling.
His family doesn't remember the exact moment when Jason decided he wanted to become a police officer. Sometime in high school is the best his brother David can say.
"Jason wanted to be a cop before I wanted to be a cop," David said. David was a correction officer when his baby brother was in high school. For the last year, both brothers were cops - Jason for Tuxedo Park, David a K9 officer for the Town of Tuxedo Police Department.
About a year ago, Jason went to Tuxedo Park Police Chief Bill Bortnowsky. Jason was direct : I want to be a police officer, he said.
The chief was impressed. Jason started as many others have before - as a part-time police dispatcher. The department decided to send Jason to the police academy. He loved every minute of it. As soon as he finished firearms training, Jason was out patrolling the streets of Tuxedo Park.
In June, he graduated from the police academy. A picture captures this moment : Jason in a crisp blue uniform, his right gloved hand cocked in a salute and a broad smile on his face.
Jason wanted to be a cop to help people. He wanted to be an officer who knew everyone in the community. An officer who watched toddlers grow into teens and then into adults. He wanted to be there to teach kids not to do drugs. He wanted to catch teens as they did drugs anyway. And he wanted to help put them back on the path to adulthood.
"He didn't care if he arrested anybody in his whole career," said David Conklin. "He wanted to help people. He wanted to be a role model."
Yes, Jason died too young. He was taken from his family too soon. But he also accomplished something very few of us do - no matter how old we are : He fulfilled his dream. How many of the rest of us can say that?
by David Conklin
When Jason Conklin was growing up, he was very fortunate to have a lot of people who were close to him. In high school, Jason had teachers who meant a lot to him and were an important part of his life. Three teachers particularly helped to mold him into the motivated professional that he was. They were : Mrs. Knowles, Mrs. Cunningham, and Mrs. Feinstein. Jason always kept in touch with them over the years and they were always there for him.
Jason was an athlete. He played Monroe-Woodbury Little League for seven years on a team his dad coached. He played Pop Warner Football for four years and he was an avid skier since the age of 14. He was an asset to the Monroe-Woodbury High School ski team. He later became a ski instructor at Sterling Forest Ski Center.
After high school, Jason attended Rockland County Community College to pursue an associate's degree in Criminal Justice. He worked two jobs and attended college. As time went by, his goal to become a police officer was getting stronger. He got a job with IBM security and was proud of that job. He was in uniform and he was one step closer to reaching his goal.
He decided that if he put himself through the police academy, he would have more of an opportunity to become a police officer so he went out job hunting. He applied to several different police departments hoping they would sponsor him to the academy but to no avail. He was frustrated, he realized how hard it was to become a police officer, but he never gave up. He applied at the Village of Tuxedo Park Police Department and spoke to Chief Bill Bortnowski [sic] and subsequently spoke to Sgt. Gary Vaught. When he came home he was so happy, he thought he had a chance. He was very impressed by the professionalism in that department and he really wanted to work there. He was told that to be a police officer in Tuxedo Park, he had to be courteous, polite, and professional - a public relations type of person. That is what he was looking for. He wanted to patrol the village and help some people. He wanted to be there for someone who needed help and just talk to people while on patrol. Some people become police officers for the wrong reasons - for the status and authority. Not Jason. He really wanted to help people and try to make a difference.
One day he received a call from Chief Bortnowski [sic] stating that he and Sergeant Vaught had talked and completed a background check on him and they decided to hire Jason as a dispatcher and sponsor him to the police academy. Jason was excited - all of his hard work and motivation had paid off. He told all of his friends and family. He was proud.
While attending the police academy, Jason was still working two jobs. He would attend the academy during the day and work a double shift at IBM or one shift at IBM and one in Tuxedo Park. He was always busy.
He loved the police academy. The more the drill instructor yelled at him and made him do pushups or run laps, the more Jason liked it. His uniform was always pressed, boots and leather polished to a mirror shine. He was proud. Fellow students in his class remember Jason as being "gung-ho." A former student and good friend, Mike Sanford, recalls when he and Jason carpooled to the academy. Jason always got there an hour early so he could touch up his boots or study his notes. Another student and friend, Ed Dolan, of Suffern, recalls when the class would finish running two miles and doing 50 pushups, Jason wanted to do more.
Jason was excited his first day as a police officer in Tuxedo Park. Patrick Welsh, another friend and co-worker, was one of Jason's training officers. Jason was very happy to be working with Pat. He liked and respected him. During his short career, Jason had pulled some cars over for traffic infractions but he never wrote a single ticket. He was very polite and courteous to people and gave them a warning rather than a ticket. He never boasted about being a police officer, but he was honored to be one.
Jason always wore his seat belt, in his personal vehicle as well as on duty. He would not let you ride in his car unless you wore one. The day of the accident, it could have only been fate. He did what he normally did while on duty. He spotted a speeding violator and he pursued him. He was performing a duty to the Village of Tuxedo Park. God obviously needed him to perform other duties but at least not before reaching his goal.
The day of the funeral was the proudest day. It was all what Jason loved and strived to be. Thousands of police officers including mounted police, K-9 units, helicopters, color guards, corrections officers, firemen, ambulance personnel, friends and family came from everywhere, flooding the streets of Monroe to give Jason the farewell he deserved. The professionalism at the funeral was what Jason thrived on and he had the best view of it all.
He was a son, brother, uncle, nephew, friend, boyfriend, fellow police officer, and hero. He was loved and will be missed by all. God bless him and let him rest in peace.
David Conklin is the brother of Jason Conklin, who died in the line of duty. David works as a K-9 offcier for the Town of Tuxedo Police Department.