---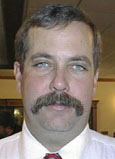 President's Message: October 1999
At September's meeting we were honored by the presence of PO Rocco Pascarella, Ret NYPD. Rocco was the Police Officer almost killed by the so-called freedom fighters of the FALN, during the Dec 31,1982 bombing of Police Headquarters in NYC. Rocco was on patrol at HQ when a bomb went off and took off his left leg, he lost the sight andhearing on his left side. One of the first rescuers to his side was Treasurer Harry Dobson.
Rocco, who is a quiet man, has been thrust into the spotlight recently because of the Presidential Clemency that was granted to sixteen FALN Terrorist. It was the hopes of the Lodge that we could start a letter writing campaign to stop this misguided act, but President Clinton acting against common sense and the will of the overly vast majority of both parties of Congress, granted the clemency. The liberals scream about justice for these freedom fighters but they forget about the victims like Rocco and one of our past speakers Tony Senft. The only way to remember this gross injustice is next November in the election booth.
The Lodge has been busy, we just fingerprinted 690 kids at the Monroe Cheese Festival and doing the same this month in Woodbury. We have been asked to provide this service to several Scout Troops.
October is Dues renewal month. This is when the Lodge has to send all the payment to the State Lodge, so we would appreciate it if the members who are behind would kindly remit so there will be no stop to their benefits, this is particulary important to our older members.
One of the side benefits to our members working at the Cheese Festival was that we discovered through the Monroe Historical Society that Monroe resident Edward Drebble was killed in the line of duty during the NYC Draft Riots on July 19,1863. Ptl Drebble's name will be entered on the Memorial Wall.
The Orange County Law Enforcement Officers Memorial Wall is progressing smoothly, we will start putting updates in future newsletters so the membership will know where we stand. If anyone would like to make a donation or knows of anyone who would just contact the Lodge at our PO Box or Hotline.
Remember, now as the Fall approaches the leaves make for a slippery road surface, so exercise care while on patrol and at home
Lastly remember, stay safe and wear your vest.

---
Condolences:
To John O' Sullivan and his family and the passing of his son David who was killed in an accident at the age of 22, last month.
David is also the brother of member Kathleen. Please keep the O' Sullivan family in your prayers

---
Get Well Wishes:
To Patricia O'Boyle, wife of John O'Boyle, MCS and daughter of Frank Keegan,NYPD Ret, quick recovery
To the father of Chris Stewart BXTF
To Nora Carton, mother of Tom Carton FTS

---
Congratulations:
To Jay Gubernick on winning the Woodbury Primary for Town Supervisor
To Harry Dobson on winning the Woodbury Primary for Town Councilman
Good Luck to them both in next month's election.
Again to Jay Gubernick on the birth of his new grandchild

---
Monroe Cheese Festival:
Saturday Sept 25, several members showed up at the Monroe Cheese Festival to fingerprint and photograph kids for the FOP Child ID Kits. We fingerprinted and photographed 690 kids from the age of 1mos to 18 years. Lodge 957 supplied the kits which consisted of fingerprints, Polaroids, gun safety coloring books, stickers, crayons and child first aid kits, free to any child or adult who stopped by. An additional 300 coloring books and crayons werehanded out.
Thanks to the members who showed up and donated their time: Tracy Ortleib, Joey Andujar, and Mike Quirk. Special thanks to the Board Members and their families who set up and stayed to clean up, Tom and Marjorie, and Tommy and Jaime Carton, Larry and Linda, Danny, Ryan and Collen Bennet, Harryand Jackie and GeanaMarie Dobson,Efrain and Nilda Oyola and Frank Cush.
The FOP booth was in between two chiropractors and by the end of the day the Board was going to make those stands wealthy beyond their wildest dreams.
Our Lodge has been asked to do this foir a few scout troops, we just have to work out the particulars. We are scheduled to do the same on Woodbury Day, Oct 3. Any money raised, while not much will go to the Memorial Wall, the day got us out into the public to make the public more aware of who we are and what we do, we even picked up a few members.
---
On October 16, the Nam Knights a Law Enforcement Groups is sponsoring a football game, NYSP Troop F vs USMA MP's,admission is a toy for their annual Toy Drive.

---
VIN Etching:
The Lodge will be providing free VIN etching on Sunday October 10 at Smith Clove Park in Monroe. This is open to all members and residents in Orange County. Once completed the vehicle owner is entitiled up to 10%off your comprehensive insurance.

---
Driver Safety Course:
The Lodge will be offering the State Safety Course for the 10% discount on your Liability insurance. Unfortunately, we have to charge a slight fee of $15.00 for this six hour course, since that is what we have to send to the DMV for the materials. We will open this to residents of Orange County, but they will be paying$30.00, the extra money going to the Memorial Wall. This will be limited to the first 130 people, because of space. This course usually runs about $60-$75.00. The Date will be mention at the meeting. We are looking at one of the weekends in November.

---
ORANGE COUNTY LAW ENFORCEMT OFFICERS MEMORIAL WALL
During the height of Hurricane Floyd Tom Carton and Harry Dobson met with County Executive Joe Rampe to discuss the Memorial Wall. Mr. Rampe enthusiastically supports our Lodge and our Wall. A site has been chosen to place the Memorial, but due to construction delays we have had to change the dedication date until August 19, 2000, two days short of Jason Conklin's third anniversary. More details to follow.
---
Again, this is your newsletter, whatever you would like to see printed please submit it. we will print anything from the members, pro or con. We will not practice censorship, just correct for spelling. We want to make this a newsletter that the readers, our members, look forward to.
Help find a missing child