---
Candidates for the August Election:
President: Sean Franklin, Tom Carton
The office of President is the only contested position on the ballot. Tom Carton's challenger is Sean Franklin, the current Recording Secretary of the lodge. Sean is 35 years old, and an 11 year member of the NYPD who is a Detective currently assigned to Manattan Nightwatch. His previous assignments include Manhattan North Narcotics, Major case,
Narcotics Homicide Squad, 47th precinct, BXTF, PSA7. Sean is actively involved in the Monroe A.O.H. Division #1, American Legion Post #488 in Monroe, and the VFW Post #8858. If elected President of the Lodge, Sean would like to re-establish the original goals that this lodge had set out to achieve, increase the membership, and allow the members to become more actively involved in the running of their lodge.
Exec. VP: Vacant - will be temp. appointment
Vice President: Larry Bennet
Treasurer: Frank Cush
Recording Secretary: Vacant- will be temp appointment
Financial Secretary: Frank Keegan
Sgt at Arms: John Flood
Please come out to vote and show your support for the candidates.
---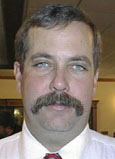 Go to the August issue of "The Dispatch"
Go to the June/July 2000 issue of "The Dispatch"
President's Message: August 2000
This August 14th is our annual BBQ meeting and is our elections that are mandated by the State Lodge to be held every two years. We now have some by-laws amendments to change that to a one year period.
Due to the Large amount of people expected to attend the August meeting for both the elections and the BBQ we had had to get an updated roster from the State for the smooth functioning of the elections, so only members who are registered with the State as of July 12 will be allowed to vote.
The posotion of President is the only opposed position in the election. I could use this column to sing my praises for what I and this Board have done in the last two years, but I won't. I will leave it up to the membership to decide - do you want to re-elect me again or send me out to pasture. I understand that there has been a lot of negative misinformation going around. Surprisingly I have never been directly asked about any of the statements, so instead of defending myself, I leave it up to you the membership to decide.
The Lodge got a thank you note from Trooper Kelly's family for the floral arrangements that were sent to his and his partner's funeral. I will bring it to the next meeting.
The Lodge is planning to sell new shirts at the BBQ. These two new designs will all go to benefit the Wall. They should be appealing to most if not all, one even makes a political statement that has been heard again and again in this Lodge and throughout the Law Enforcement community, much to the chagrin of the Liberals.
In closing I want to wish Sean Franklin good luck in his run against me for President and win or lose, I wish the best for this Lodge. I want to thank Harry Dobson, Dave Conklin and Erwin Benz for their help, assistance and guidance in working together as the past Board. They have all sacrificed time and energy and effort and took time from their families to help this Lodge run efficiently. All the members on this Board gave heartily of themselves and average 10-20 hours a week for this Lodge to help run our many programs, VIN etching, Child ID kits, Lectures, Driver Safety courses Parades and sadly funerals.
Lastly, remember Stay safe and wear your Vest.
Tom



Next Meeting
Monday, August 14th, 2000 8pm
@ American Legion Post #488
Lakes Rd., Monroe

*** ANNUAL ELECTONS WILL BE HELD AT THE AUGUST MEETING. This is also our barbeque meeting.

---
NEW -

Featured Sections of the Month
Lodge Members' Homepages - Help us in our efforts to compile a list of lodge members' homepages to be linked to this site. Add your homepage to the list. Also, if you know of any quality law enforcement sites you would like to see added, please send me the URLs.
Local Law Enforcement News of Interest - This is a new section I am starting up where members can submit any news wothy of being placed in this section.
Police Links
---

Free Discount Tickets to Morey's Piers at Wildwood, NJ - Lodge Member Damon Ruta is graciously donating tickets to any FOP Lodge #957 members who are interested. Each ticket is valid for up to 6 people (a $42 savings) and the tickets are reusable for the entire 2000 season. If interested, please send a self addressed stamped envelope to:
P.O. Damon Ruta c/o 52nd Pct. NYPD
3016 Webster Avenue
Bronx, NY 10467
Fellow NYPD members may utilize dept mail
---

About Officer Conklin

Membership Information

Board of Directors

Photo Album

Honorees of the Month

Sign and Visit the Guestbook

Lodge #957 Membership Application
---

Upcoming Events
- Stay tuned for details

---

"The Dispatch" Archived Issues
---

Orange County Police Memorial
About the Memorial and planned dedication
Memorial Biographies - an in-depth look at the local officers killed in the line of duty
---

National Police Week
1998 - Summaries and Pictures from Washington D.C. service, Hicksville FOP service, and Rockland County service during National Police Week, May 1998.

2000 Police Week Activities
---

Miscellaneous Info.
Cellular One Phone Deal for Members
Order Form for Lodge #957 Merchandise
How to order FOP licence plates (NY)
Advertise in "The Dispatch"
Defibrillator for Harriman PD
New York State Assembly Citation
Proclamation from Sen.William J. Larkin, Jr.
Letter from Sen. Larkin to Treasurer Dobson
---

Contact Information
Email the webmaster
---
Again, this is your newsletter, whatever you would like to see printed please submit it. we will print anything from the members, pro or con. We will not practice censorship, just correct for spelling. We want to make this a newsletter that the readers, our members, look forward to.