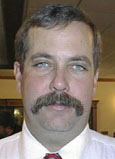 President's Message: June/July 2000
Well here is the mysterious reappearing newsletter. We had prepared
the May issue and were ready to crop it and set it and get it ready for
printing when some unscheduled details came up at the NYPD and the
newsletter staff was not able to finish the May issue in time to get it
printed. We therefor decided to forgo the newsletter for May and combine
the May/June issue. That is when we ran into a snag with the printer,
who has had to take care of personal matters and now we are looking for a
new printer.
We try to use the ads in the newsletter to cover the cost of the
printing, but we are now looking at almost $300.00 a month to print up
the newsletter. We have explored several ways to get the newsletter out
and are still looking for a new printer. If anyone knows of a printer or
advertiser, please let us know.

We have heard a lot about the State and National Cards. We have sent
in all the applications within a few days of receiving them. The mail box
is checked daily, copies of the applications are made and recorded and
the applications are sent out to the State who then sends them to the
National Lodge. There are three different operating systems being used
for this process and the State is now sending the cards to us faster. As
soon as we get them, we try to send them out. I understand that a
significant number of members have not received their cards and stickers
and in the words of Harry Truman, the"buck stops here." I will try to
improve the way the cards are delivered to the members and I appreciate
your frustation (how's that for verbal judo), and will get this worked out
as soon as possible.

This August there will be a Lodge Election. All offices are up for
re-election or for new officers. In order to run for an office, the
Member can not be in arrears with their dues. We will welcome all
nominations at the July meeting. All positions are open and in keeping
with the principles of democracy, we will have a vote at the August
Meeting. Proxies may be sent in but must be received before the meeting
on 8/14, include your nominations on sealed paper with each individual
nominations. The entire envelope will be opened at the meeting at the
time of voting for each position.

The August meeting will also be our BBQ meeting, we are hoping to
make it as successful as last year's meeting.

The Lodge has been working with Louie Contini of the OC Shields in
making FOP Member Nancy Calhoun's bill a law in abolishing the City
Waiver, Nancy is trying to schedule herself for our July Meeting.

In the meantime, enjoy the summer and the family BBQ's and remember,
stay safe and wear your vests.
Tom
---
Congratulations:
To Mike Phipps, on his promotion to Deputy Inspector, NYPD
Bob Cohen on his appointment as CO Manhattan North Task Force
To all our other members on the Sgt's and Lts list.
---
Thanks
- To Lodge member Nancy Calhoun, NYS Assembly, 94th dist on introducing NY
Senate Bill 7825 making it a State Law outlawing the New York City
Waiver, the 3% tax NYC Police, Fire, EMTS, Sanitation workers must pay
for the privillege of working for the City and living outside of the
city. If this law passes, we will see anywhere from $50.00 to $90.00
more in our paychecks. There will be more information at the meeting as
well as a list of Senators to contact, as well as information to take
back to your commands to get workers from Rockland,Putnam, Westchester
and Long Island on the band wagon to write to their representatives to
encourage the passing of this Bill.
- Thank you to member Joe Andujar for representing our Lodge at Tpr Kelly's
funeral with his FOP Harley-Davidson. The Lodge sent floral tributes to
both Troopers funerals.
---
June 15th
This was the 20th anniversary of the Line of Duty death of PO John
Patwell, 43rd Pct NYPD. The Lodge sent a floral tribute in his honor to
his widow. Please keep him, and all the Memorial Wall Honorees and their
families in your prayers.
---
Elections
On August 14th all positions in Lodge 957 will be up for election. Now
is the time for the membership to voice how they want their Lodge run.
we will begin to accept nominations at the July Meeting and will accept
them up until the opening of the floor for elections at the August
meeting. Proxies may be mailed to the PO Box with each position on a
seperate piece of taped paper with the position listed on the outside,
all enclosed in a sealed envelope, which will only be opened at the time
of elections. We will be asking for volunteers from the floor to serve
as counters.
---
Summer meetings:
We will continue to have meetings throughout the summer, as always on the
second Monday of each month. Due to the hot weather, the Board wouldl
like to ask the membership to allow us to dress down for the Summer
meetings, and be more casual and a lot cooler(the ties remind me of
grammer school)
---
August Meeting
Monday August 14 will be the 2nd Annual BBQ meeting at the American
Legion Pavillion located in the upper parking Lot. We are trying to top
last years BBQ. If successful, we will make this an annual event.
---
Membership Dues:
The State Lodge mandates that all members dues must be paid by every
October for the following year, so 2001 dues are due this October,
hopefully we will have an easier time delivering the membership cards and
stickers in a more timely manner for 2001.
---
Condolences
Please keep in mind the families and co-workers of the Police Officers
killed in the Line of Duty over the last few weeks.
PO David Regan NYPD
Tpr Mike Kelly NYSP TRP F
Tpr Kenneth Poormon NYSP TRP F
---
Golf Outing
The 3rd Jason Conklin Golf Outing will be held on Monday July 10 at
Mansion Ridge Country Club, Monroe shotgun start at 8:00, pre-tournament
breakfast at 7:00 . Cost $125.00 per person includes all the amenities.
DRESS CODE -strictly enforced, golfers must wear collared shirts, no
jeans or metal spikes. For information/reservations, please call
351-7475 or 351-5930
---
Lodge Cell Phones
The Lodge is offering cell phones thru Omnipoint Communications package
includes:
250 free minutes (metro area, no roaming)-$26.99
400 free minutes (metro area, no roaming)-$39.99
Free weekends,paging many extras.
Call Ed McKenna at 516-868-5008 and tell him you are with Lodge 957.

Again, this is your newsletter, whatever you would like to see printed please submit it. we will print anything from the members, pro or con. We will not practice censorship, just correct for spelling. We want to make this a newsletter that the readers, our members, look forward to.