Tuxedo Park cop buried in his hometown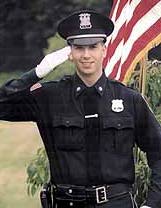 By DAVID KIBBE
Staff Writer

MONROE - Jason Conklin dreamed of becoming a cop.

He barely had one year on the job when he gave his life in the line of duty Thursday for the Tuxedo Park police department. His Ford Expedition police truck overturned on a curve in the road, apparently while he was chasing a speeder.

He was thrown out the open driver's side window. The truck rolled on top of him, and he suffocated.

Conklin, 22, was buried a hero in his hometown Monday,
as 1,500 police officers from all over the region turned the Monroe Cemetery into a sea of dress blue and gray.

''I'm speechless,'' said Conklin's older brother, David, a Town of Tuxedo K-9 officer. ''This is unbelievable. It makes me proud to wear a uniform. I want to thank everybody.''

The 1,500 police officers, led by a motorcycle escort, marched the half-mile from the Smith, Seaman & Quackenbush funeral home on Maple Avenue to the cemetery on Route 17M. Two Rockland County sheriff's deputies officers rode on horseback. A third deputy held the reins of a riderless horse, with black boots backwards in the stirrups.

Conklin's parents, brothers and sisters leaned against each for support as the Emerald Society Pipes and Drums played ''Amazing Grace'' on bagpipes at the cemetery. The police officers - from New York City police to the tiniest departments in the Hudson Valley - stood straight-backed at attention in neat rows, their right hands locked in a salute.

Hundreds of police officers who never met Jason Conklin were there to honor one of their own. ''He's a police officer, and we owe that to each other, because it's such a thin line,'' said New York City Police Lt. Tom Downes, who lives in Orange County. A bugler played ''Taps.''

The Town of Ramapo honor guard fired three shots. An honor detachment from the Clarkstown police department lifted the American flag off the birch casket, folded it, and handed it to Tuxedo Park Police Chief Bill Bortnowsky.

Bortnowsky presented the flag to Conklin's mother, Sandy, who clutched it tightly to her chest with both arms. Conklin's father, Jake,
kissed her on the head and hugged her as the family wept.
Conklin was buried in his uniform.

More than 250 people crowded inside the funeral home earlier in the day to hear a memorial service, led by the Rev. George Langberg. Hundreds of police officers listened outside over a loudspeaker. Bortnowsky stood before Conklin's casket and remembered the day last year when Conklin walked into his office for the first time. Bortnowsky told the mourners Conklin seemed shy, reserved, but very polite. He knew what he wanted.

''He asked me for a job,'' Bortnowsky recalled. ''He said, 'I want to be a police officer.' He reminded me, most of all, of myself 22 years ago.''
Bortnowsky gave him a try as a parttime police dispatcher. He said Conklin was an immediate success. ''He was kind-hearted, a great, caring person. I didn't have one complaint lodged against him.''

Bortnowsky decided to give him a chance. He sent Conklin to the Rockland County Police Academy. He graduated in June, and Bortnowsky made him a fulltime police officer. ''He worked very hard,'' Bortnowsky said. ''He wanted to be a police officer in the worst way.''

The day Conklin died, Bortnowsky spoke to him for about 10 minutes before he left for patrol. Conklin talked about his plans to drive his girlfriend to college in North Carolina. ''He was happy,'' Bortnowsky recalled.

Then Bortnowsky noticed Conklin's wristwatch as they talked. It was an unusual watch, with a glow-in-the-dark face. ''The same watch I pulled out of the wreckage,'' Bortnowsky said.

Conklin's police truck was found on Tuxedo Road with his lights and siren on. He had been seen doing radar checks a short time earlier. The accident is still under investigation, and no speeder has been caught.

Bortnowsky said Conklin would be alive today if he was wearing his seat belt. Police officers and emergency services workers are exempt from seat belt laws.

''I think if Jason could speak to us right now, he would probably have a couple of things to say,'' Bortnowsky said. ''Number one, buckle up. Wear your seat belt, each and every one of you. I know I have, ever since that day. It scared me to death.''

The funeral home was filled with pictures of Conklin, from his boyhood days in Little League, to a teen-ager on the ski slopes, to a young man in his new police uniform.

Family members recalled Conklin's lighter moments during the service, sometimes laughing through their tears. They remembered their brother going to the shore, eating Snickers bars and hunting and fishing with his brothers.

''Jason was certainly one of a kind,'' said his brother, Steven. ''He was so proud he fulfilled his dream of becoming a police officer.''

After the service, two police helicopters flew over the funeral home, trailing off over the tree tops in the missing man formation. And the toughest cops grimaced and fought back tears.